How Can Radiesse Injectables Improve One's Aging Appearance?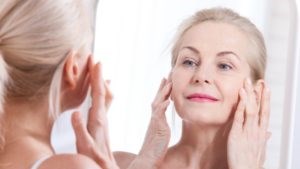 At ChidesterMD Plastic and Hand Surgery, Salt Lake City area patients can obtain a selection of cosmetic injectables to combat the unwanted signs of aging. Fine lines, wrinkles, and folds commonly develop on the face after the age of 30. This is caused by the natural reduction in elements of the skin such as collagen and elastin. However, Dr. Jerry Chidester is pleased to provide men and women a way to enhance their appearance and turn back the hands of time with cosmetic injectables such as Radiesse.
What Is Radiesse?
There are many dermal fillers available to patients on the market today. Radiesse is one of many options for patients to choose from. This volumizing filler is formulated using Calcium Hydroxyapatite, or CaHA microspheres in a specialized gel that is injected directly into the areas of concern. When this happens, the patient experiences immediate volume. Additionally, because the product works in stimulating the body's natural ability to produce collagen, patients continue to see results over time. As the injectable filler is absorbed by the body over several months, it leaves the natural collagen behind to maintain the results longer than other cosmetic injectables. In fact, most patients who use Radiesse injectables will maintain their results for at least one year before reinjections are required.
Is Radiesse Safe To Inject Into The Skin And Body?
Radiesse is a cosmetic injectable that has been approved by the DA. It provides high patient satisfaction results and is clinically proven to offer months of improvement. It eliminates the need for unnecessary surgical interventions and offers a long-term, affordable option for many men and women seeking a way to keep their youthful appearance. Patients also love that their doctor can mix their Radiesse injections with lidocaine for addressing any injection-related discomfort that may result.
Speak With Dr. Jerry Chidester Today To Learn More About Radiesse Injections
If you live in or around the community of Salt Lake City, Utah and are interested in discussing the benefits of Radiesse injectables for facial enhancement, we encourage you to contact ChidesterMD Plastic and Hand Surgery today by calling (801) 839-5557. We welcome new patients into our office, conveniently located at 6322 South 3000 E, Ste. 170.